WorldNXT Online Booking Platform
Take your direct bookings and online sales strategy to the next level with WorldNXT.
Let us simplify your life and power your business
About WorldNXT
Seamlessly integrated into the SMS|Host Hospitality Management System, the WorldNXT Lodging Booking Engine enables online reservations to flow in real-time from the web to the SMS|Host System without incurring transaction-based fees. Inventory, rates and availability are automatically updated in real time as changes are made in the SMS|Host system.  There is no need to manually update or duplicate efforts via a separate channel manager tool to maintain web presence. Fully responsive and embedded directly into an existing website, the Lodging Booking Engine provides a sleek and seamless shopping experience, with the flexibility to book accommodates at either the room-type level, or at a unit-specific level. The WorldNXT Lodging Booking Engine has comparative and suggestive selling tools that engage and convert "lookers into bookers" – driving revenue and attracting valuable traffic direct to your website.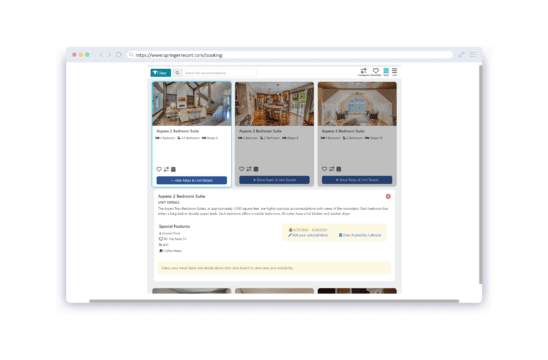 Lodging Booking Engine
The WorldNXT Lodging Booking Engine leverages Springer-Miller Systems proprietary web services technology, SMS|Diplomat, to pull rates, availability, inventory, and restrictions in real-time. Embedded directly within a properties website, the WorldNXT Lodging Booking Engine features a flexible CSS-based layout. The customer journey is contained within your brand, and suggestive and comparative selling tools engage your audience.
Flat subscription fee (SaaS model pricing)
Branded and customized direct booking engine
Comparative and suggesting selling tools
Owners Portal
The WorldNXT Owners Portal is directly integrated with the SMS|Host system. The portal gives owners transparency into their investment, monitoring usage of the unit, the ability to view statements and work orders, and the ability to make owner reservations directly.
Access that provides 24/7 insight for owners
Monitoring real-time unit activity
Owners can book their own stays
Vacation Rental Channel Distribution
Springer-Miller systems and our sister company, Fuel Travel have teamed up with BookingPalTM, an industry leader in providing channel distribution of rates, availability, and restrictions. The distribution solution provides access to over thirty major vacation rental channels such as Airbnb and VRBO.  WorldNXT Vacation Rental Channel Distribution allows the Vacation Rental Coordinator to remain in control by managing rates, availability, and restrictions in SMS|Host and utilizing one central location for all connected channels.  The processing of inbound reservations in SMS|Host, including the payment details (when supported by the channel) brings the integration full circle.
Web Check-in/Check-out
WorldNXT Web Check-in/Check-out is directly integrated with the SMS|Host system to allow a contactless online check-in and check-out experience.
Flexibility to customize with logo, color scheme, or full website
Easy to use alternative for guests without the Guest Mobile App
Group Portal
The WorldNXT Group Portal is the latest addition to the WorldNXT Platform.  The Group Portal provides online access to Group Contacts that are hosting events at your property, allowing them to view and export a rooming list to Excel, monitor their group's block and pick-up, access group specific documents and more.
24/7 online access to Group Contacts
View, import and export rooming list to Excel
Monitor groups block and pick-up status
WorldNXT Golf Tee Times
WorldNXT Tee Times caters to all guest types at your property while keeping things organized and in real-time for your staff. All player types (Public, Member, and Lodging) can book and cancel tee times online to allow the Pro Shop staff time to focus on other aspects of the business. Highlights include, Public Guests can search and book tee times as desired, Members can relax knowing they can easily sign in online to book tee times, and Lodging Guests can book a room and golf together (WorldNXT Lodging) and enjoy the flexibility to add a tee time to their existing lodging itinerary (WorldNXT Tee Times).
Mobile App & Digital Key
The WorldNXT Guest Mobile Application is the key to a successful brand strategy. At the property level, staff are able to fully customize the app and manage push notifications from the WorldNXT admin site. The app permits the property to curate the guest experience prior to stepping foot on property. 
Custom Branding

Messaging Platform

PMS Integration

Analytics Insights

Express Check-in

Property Information

Destination Details

Planning Tools
Fill out the Form Below to Request a Demo